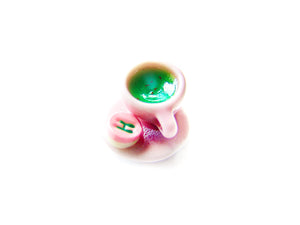 It's back! The sold out HBH hot tea!
SSM presents: a very Wizardr-tea Charm Collection! I am so excited to bring you this collection that has been brewing in my mind over the last several months! Releasing now through the holiday season, a collectable set of exclusive SSM wizarding-world inspired hot tea charms! Each of these tea designs where created by me with my favorite books in mind, and lovingly crafted for the amazing fandom. Many of these will not be remade, and quantities are quite limited!
The fourth in the collection, a celebration of the Happee Birthdae cake that was so lovingly handmade, words n' all! A dusty pink porcelain cup, filled with fresh green tea and served with a tiny hand-painted H petit four!
●  You will receive one charm, finished on your choice clasp color!
● Each tiny detail is individually hand-made by me with love (no molds!) using polymer clay in a clay-only oven. Every one is unique in shape and texture.
● Perfect stich markers for your knitting or quilt project!
● Ideal to hook onto your cell phone charm!
● Easily add to your charm bracelet or necklace 
● Perfect mini delectable addition to your keyring
● Add to zipper pulls or loops for a unique embellishment
● Try clipping it onto your wallet!