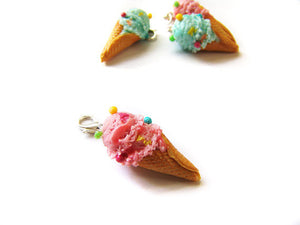 My ABSOLUTE favorite as a kid! Creamy, magically delicious ice cream with a rainbow assortment of bubblegum balls! This double scoop of bubblegum ice cream is finished on a crispy waffle cone, and set to your choice of gold or silver-plated clasp!
● You will receive one charm, finished on your choice of a gold or silver plated clasp!
● Each tiny detail is individually hand-made by me with love (no molds!) using polymer clay in a clay-only oven. Every one is unique in shape and texture.
● Perfect stich markers for your knitting or quilt project!
● Ideal to hook onto your cell phone charm!
● Easily add to your charm bracelet or necklace 
● Perfect mini delectable addition to your keyring
● Add to zipper pulls or loops for a unique embellishment
● Try clipping it onto your wallet!